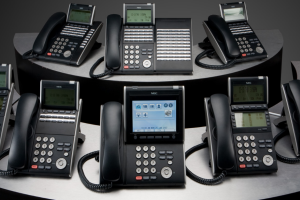 Communication Without Compromise
Applied Telecom and Data has sold and serviced many different brands of telecommunications systems and products over the years, we have found that the NEC Univerge SV9100 Communications Platform is one of the most feature rich and cost effective communication platforms on the market today, it has just earned the Internet Telephony 2015 product of the year award!
The Univerge SV9100 has a standard 24 month material warranty, which can be easily upgraded to a 5 year warranty with the purchase of 5 years of NEC's Software Assurance App., which protects your investment, ensures your software is always current and up to date, provides priority access to NEC's support services and technical resources and supports software life cycles.
We also offer maintenance agreements for all out-of-warranty systems we sell to help keep your maintenance cost budgeted and under control.
NEC's Univerge SV9100 is the Unified Communications (UC) Platform of choice for small and medium businesses (SMB's) who don't want to be left behind. Designed to fit your unique business needs. The Univerge SV9100 Platform is a powerful communications solution that provides SMB's with the efficient, easy to deploy, mobile technology that they require. Reliable and adaptable, the Univerge SV9100 is built on cutting edge technology that supports voice, unified communications and collaboration, Unified Messaging and Mobility out-of-the- box, all while remaining easy to manage.
Smart IT investment, keeping in control, centralized, intuitive management system, single point of entry and optimum in IT infrastructure, Unified communications to enhance call management, productivity and efficiency, better and easy insight into fixed and mobile call cost.
Why not contact us for a no-cost estimate or demonstration?
We also service NEC i-Series, Aspire, SV8100, SL1100, SV9100, Tie, Nitsuko, Avaya Lucent, AND most other systems.